The SEARCH Sea Ice Outlook effort, which emerged from discussions at the "Arctic Observation Integration Workshops" held March 2008 in Palisades, NY, is a response by the scientific community to the need for better understanding of the arctic sea ice system, given the drastic and unexpected sea ice decline witnessed in 2007.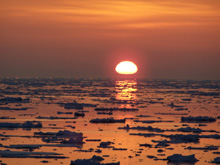 Sunset The Sea Ice Outlook produces monthly reports during the arctic sea ice season, based on an open and inclusive process that synthesizes input from a broad range of scientific perspectives:
Each month during the summer sea ice melt season, a request to the international arctic science community solicits information on the expected state of the September arctic sea ice.

The community submissions are synthesized and reviewed by the Sea Ice Outlook Core Integration Group and Advisory Group.

An integrated monthly report is produced that summarizes the evolution and expected state of arctic sea ice for the September mean arctic sea ice extent, based on the observations and analyses submitted by the science community. These reports are posted in the "monthly reports" section of this website and widely distributed.

The process for producing the monthly Sea Ice Outlook reports is repeated through September of each sea ice season.

A retrospective analysis after the season examines the success of the Sea Ice Outlook in advancing scientific understanding of the arctic sea ice system, and provide guidance to future research efforts.
The SEARCH Sea Ice Outlook is implemented through close cooperation with the DAMOCLES program and other relevant national and international efforts. Sea Ice Outlook activities are supported in part through the National Science Foundation (NSF) and the National Oceanic and Atmospheric Administration (NOAA).